Carving of glass bottle products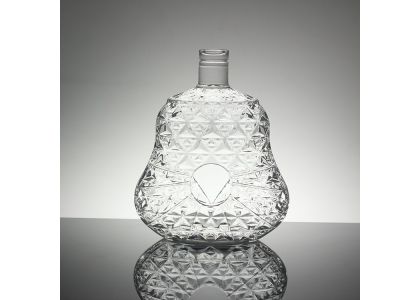 Glass bottle Manufacturers on the hand carving glass surface carving refers to the glass surface engraved with fine stereoscopic shape or pattern. The difference between engraving and carving is that engraving is dominated by multi-ribbed patterns and geometric patterns, while carving can carve extremely complex, artistic patterns, and even portraits, landscapes and words, and use relief technology glass surface engraving including concave carving, relief, semicircle carving, penetrating carving and other forms, concave carving and relief applications the most.
Concave carving is on the glass surface carved out of the concave and different levels of characters, landscapes, animals and words and other patterns; embossed is on the glass surface with painting drawings for carving, engraved with some background, and then carved a certain degree of convex character image, pattern and so on. Glass carving stereoscopic sense and realism is strong, the engraving method is complex, the artistry is high. To make the carving works refined, elegant, glass to choose high transparency, low hardness of the material, such as lead crystal glass engraving abrasive with bauxite (Al2O2), Emery, etc., according to the carving situation can be selected M28, M-20, MM10 and M5 mark of the Emery.
When carving, add the emery to the linseed oil, mix it into a flake and use in order to increase the carving speed, can be used corundum wheel instead of copper wheel, labor productivity can be increased by 1-2 times, but also can carve out complex patterns and portraits. Engraving good glass products with solvents to remove oil and other pollutants is the finished product.